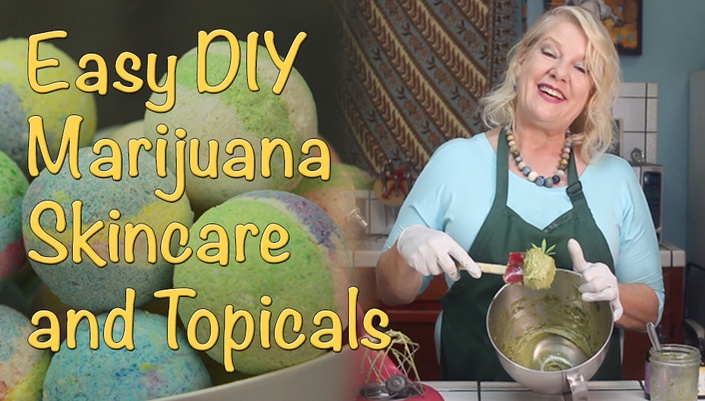 Easy DIY Marijuana Skincare and Topicals
Best selling author shares the secrets of how smearing marijuana on your body can improve your health and appearance.
Enroll in Course
Cheri Sicard has been featured in:

You might have heard the latest health and beauty buzz about how CBD and THC from marijuana are now infusing all kinds of skincare products:
Ordinary people along with high profile celebrities are singing the praises of slathering marijuana on their faces and all over their bodies, of soaking in it, bathing with it, and even bringing it into the bedroom to enhance intimate moments. Oooh la la!
• IS THIS ALL JUST A HEAP OF HYPE AND HOLLYWOOD SILLINESS?
• CAN IT ACTUALLY BE TRUE THAT APPLYING MARIJUANA TO THE OUTSIDE OF YOUR BODY IMPROVES YOUR HEALTH, NOT TO MENTION YOUR APPEARANCE AND YOUR LOVE LIFE?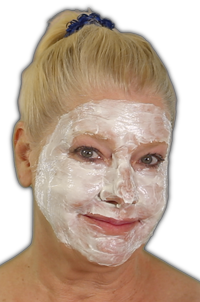 I used to think it was hype, but after making my own cannabis skincare products I proved myself wrong.
My friends and family are now believers too, although they didn't start out that way.
A lot of them laughed and rolled their eyes when I first suggested that rubbing marijuana on their bodies could improve their health. (That's probably cause I tend to get as carried away evangelizing the benefits of marijuana as a late night TV preacher does praising the lord.)

They're not laughing anymore!

After I gifted them with effective THC and CBD infused skincare products that I made in my own kitchen, my friends and family were soon begging me for my secrets and formulas!
Especially after they went into severe sticker shock when they tried to buy similar quality cannabis skincare products online and at their local dispensaries.
Normally a page like this would have testimonials from people who took the course, but this is a brand new course and I don't have any yet. BUT I did give samples of the topicals I made while developing the course to a whole lot of people to test. I only had a couple of formulas that were a miss (and those got cut) but here are just a few comments I got on the others: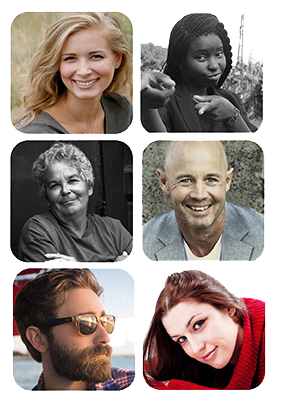 Pain Salve – "I have been jogging daily in soft sand to build up endurance and I thought I had pulled a calf muscle. I used the salve and woke up less stiff. After reapplying it in the morning I was able to fast walk with minimal soreness and the pain was gone by the time I returned to the house."

Lip Balm – "I loved the lip balm, it even helped heal a lesion on my lip!"

Bath Salts – "My mom used one of the bath salts you gave me for her arthritis and absolutely loved it! We can't wait for the whole course to be available."

Bath Bombs – "Wow, very fizzy, smelled GREAT, very relaxing, and there was no need for moisturizer afterwards."

Body Butter – " It has been a heavy mosquito season where I live and my legs were covered with itchy bites. The green tea body butter took that itch away almost instantly."

Massage Oil – "A painful leg cramp woke me up the other night. I rubbed some of the marijuana massage oil on and a few minutes later, the cramp was gone. I'm a believer!"
After sharing the formulas from this course with neighbors,
I became so popular around the small town where I live that
I had to opt-out of being listed in our local phone book.
People kept calling wanting to buy the amazing healing salve and
relaxing pain relieving bath soaks and bath bombs their neighbors
couldn't stop talking about. (For the record, I don't sell topicals.
I just teach ordinary home consumers how to make their own,
so those people are now signing up for this course.)
Readers of my blog and viewers of my YouTube channel concur about
the efficacy of high quality topicals.They absolutely DO work for all kinds
of conditions from the pain of arthritis to the heartbreak of psoriasis.

But at $50 to $100 for a small jar, the real heartbreak comes with the tales I often hear of people going without and suffering because they simply cannot afford to buy the products.
THIS COURSE CHANGES ALL THAT!
Can Marijuana Skincare Products Help You?
Is your skin aging? And presumably everyone reading this will say yes to that question. Then the answer is yes.
But seriously, beyond the pure beauty aesthetics of what all natural skin care products infused with the healing powers of cannabis can do for your appearance in the way of reducing lines, wrinkles, and dryness, if you answer yes to any of these questions, you can probably benefit from topical applications of marijuana: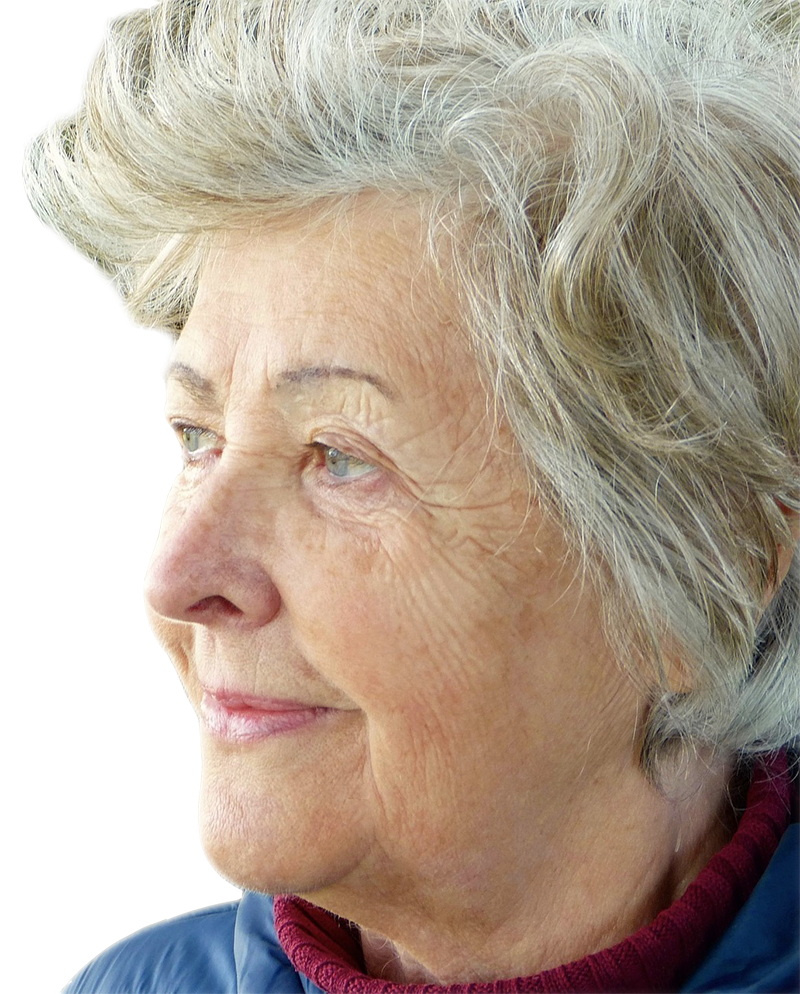 You suffer from muscle aches, pains, and soreness
You suffer from arthritis
You deal with chronic pain
You regularly get muscle cramps or spasms
You have eczema, psoriasis or other skin disorders
You have acne or breakout prone skin
You get minor cuts, scrapes and bruises
You have dry or chapped lips
You suffer with painful menstrual cramps, difficult periods and/or PMS
You are going through menopause
You get insect bites
You have scars, stretch marks, or skin tags
You suffer from stress and tension headaches
You suffer from migraines
You have itchy skin
You have vaginal dryness
People with these conditions and many, many more are reporting astounding results from using topical applications of marijuana with active THC, CBD, and sometimes both!

And circling back to my first question about aging skin, the truth is no matter how old you currently are, you are getting older. And so are the people around you. You and your friends likely have similar issues as you age and if you are caring for an aging loved one you already know the challenges ahead.
Once you harness the healing and anti-aging benefits of topical marijuana, you will not only know how to best use it to improve your own health and quality of life, you will have the ability to help the people you love improve theirs:

Even if they are fearful of marijuana.
Even if they don't want to ever feel even a little bit high.
Even if they have pass a drug test.
And even if they, or you, don't have a lot of money.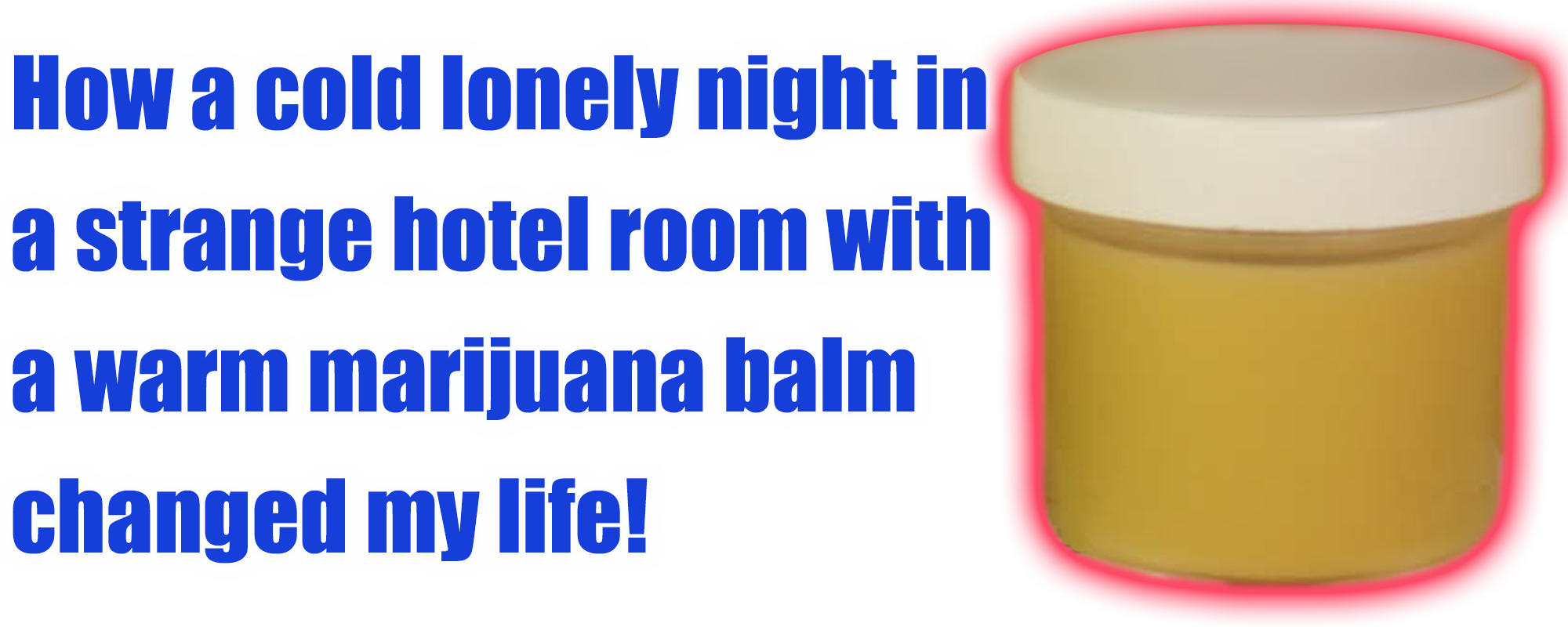 A few years ago, I didn't believe rubbing marijuana on my body could really do much. Why? Because I had tried a lot of sub par topical products throughout my years of being a writer, reviewer, and educator in the cannabis field.
To be sure, a lot of people I knew reported good results with topicals, but honestly I thought it was largely psychological and the placebo effect.
Until one night I found myself tired and alone at 3AM in a cheap hotel room in a strange city when I was jolted awake from a sound sleep by an excruciatingly painful attack of leg cramps. It was not the first time, it happens to me every month or two (both the leg cramps and being in a cheap hotel in a strange city). But it was the first time I did not have my pharmaceutical muscle relaxant with me.
In desperation I clawed through my toiletries bag, a jar of Joy Organics CBD salve the only possible remedy. I did not think it would work, but the only alternative was dancing around the room in agony hoping the cramps would subside. I massaged the salve into my cramping calves and feet. In 10 minutes the cramps were gone and I was able to go back to sleep.

WOW!
Nothing had helped these painful cramps in the past except a pharmaceutical. After repeating these conditions a few more times (albeit without being alone in a strange hotel in a strange city) I knew it was not a fluke. Topical cannabis really can work.

About that time I got a desperate email from one of my readers, an elderly gentleman who had found relief from his debilitating arthritis from a commercial salve. The problem was, on a fixed income he could not afford the $60.00 a jar price tag. Especially when he could easily go through a jar and a half per week. (As a side note, the Joy Organics salve that helped my leg cramps costs $99.00).
The high price of topicals was an echoed pain point when I did a survey of my readers asking them what online course I should pursue next after launching my Easy Cannabis Cooking for Home Cooks course. The overwhelming winner was DIY topicals. It turns out my readers and viewers were loving everything about the topical cannabis experience, except the prohibitive price tags that came with it.
And so the idea for this course was born. It took me a year longer to produce than I originally planned on, but I wanted to get it right.
It turned out very little information about marijuana topicals is available, and like everything marijuana, so much of the information out there is not accurate. Likewise I had to sift through a ton of garbage to get to the facts. It was not unlike when I first learned to cook with marijuana. And in a lot of ways, topicals are like edibles for your body (but without making you high)!
---

The Secrets to Making Marijuana Skincare Products the Big Corporations Don't Want You to Know
You might think that making your own healing marijuana skincare products would be difficult and time consuming. That's what all those companies selling $99 jars of salves want you to believe.
But the truth is, it's astonishingly simple. Far easier even than cooking with marijuana (not that cooking with cannabis is rocket science either).
After watching the lessons in this course, you could be whipping up some batches of healing cannabis infused skincare products by this evening.
The instructions and formulas are that easy, and many use ordinary ingredients you already have in your kitchen.
If you can read a recipe, measure out a few ingredients, and turn on a stove, you have all the skill necessary to make healing cannabis infused skincare products.
This course will:
Give you over 60 easy to make tested formulas for marijuana topicals including bath bombs and bath soaks, salves and balms, body butters, massage oils, lip balms, wrinkle serums, natural sunscreens, lotion bars, and even sexual lube. You will see actual demonstrations of how to make them so you can put the healing power of topical cannabis to work for you right away.
Show you how to infuse cannabis into any skincare product you choose to make so you can have fun creating your own special formulas.
Help you determine an optimal topical cannabis dose for your conditions so that you don't waste money using more marijuana than you really need. Why use more if you respond to less?
Give you easy to use topicals dosage calculators that you can use anytime you make topicals with flowers, concentrates, or commercial tinctures.
Teach you about the roles of THC, CBD and other cannabinoids in topical cannabis so you can determine what will work best for your needs.
Bring you up to speed on the latest scientific research as well as anecdotal evidence on topical cannabis so that you understand what cannabis topicals can and can't do and have a realistic idea of what to expect when you use topical marijuana.
Explore different types of carrier oils, essential oils, and other ingredients you can use to increase the healing potential of your marijuana topicals.
Cover essential information you need to understand about natural skincare products so that you always make pure, safe, all natural products that retain their maximum therapeutic benefits.
The Easiest Most Fool Proof Way to Learn to Make Marijuana Skincare Products and Topicals
Before this course, learning to make marijuana topicals involved a lot of trial and error, or a lot of time searching around on the internet trying to piece together information and hoping that the information you got was accurate and written by someone who knew what they were talking about. This is one of the biggest challenges facing cannabis consumers today, no matter what you are trying to learn about marijuana.
Shocking Inaccuracies in Cannabis Media Coverage
As a long time cannabis educator and writer with 3 published books, 8 online courses, and hundreds of freelance articles to my credit, I regularly come across editors of cannabis publications who were hired not for their knowledge of marijuana, but rather for their ability to generate ad sales and website clicks. The resulting content, often in mainstream and "well-respected" publications, is often filled with inaccuracies, half-truths, and in some cases downright lies.
As I write this, the previous week I saw an article in one the world's leading marijuana magazines touting a woman I know for a fact was never diagnosed with cancer (because she told me herself she wasn't), as being 7-years cancer-free.
Another uneducated editor of a medical marijuana publication informed me that a 5 mg THC dose is PLENTY for anyone, which is utter nonsense.
Yet another editor recently tried to convince me that CBD is the absolute best thing anyone can use topically for deep chronic pain -- not true, while it may assist, it is hardly THE BEST or only choice for this condition. Little surprise that publication makes money by selling CBD products. And no surprise, I turned down their offer to write for them, as I am NEVER going to distort the truth in order to sell products.
My point is, a lot of what's being published is written and/or curated by people with little understanding of cannabis, or how to best use it and harness its healing properties.
This course changes that by putting credible, practical, actionable, cannabis knowledge directly into your hands so you can personally take charge of your own health. Not only will you save TONS of money over buying commercially made cannabis skincare products. You will get superior products.
Why? Because they will be made with all-natural ingredients that specifically benefit your individual skin type and age. They can be made with CBD, THC, or a full spectrum of therapeutic cannabinoids to best treat your medical conditions. And they will carry a dosage of cannabis that your particular conditions respond to best.

If I handed you $2000, Would You Turn It Down?
If you use marijuana topicals, this course puts money in your pocket!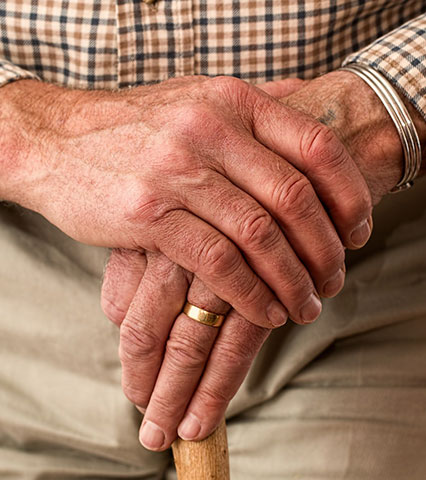 Consider the case of the elderly gentleman I referenced earlier on this page. His escalating arthritis pain was responding well to the commercial topical marijuana salve he was using. In fact, he said it was about the ONLY thing that had helped him.
BUT, he was going through a jar and half per week. At $59.95 a jar, a year's supply would cost him $3117. 40!
YOWZA!

His fixed income earnings simply were having a hard time keeping up with his arthritis's demand (that arthritis can be a DEMANDING little bitch).

However, using just a few simple ingredients paired with some low-end cannabis, he is now able to make a pain relief salve in a comparable dosage for a fraction of the cost. $16.80 per jar to be exact (and that is buying $5.00 a gram dispensary weed, he could lower his costs further by buying in larger volume or by using one or more of the low cost strategies outlined in the course).

The money he saves on salves alone put over $2200 per year back in his pocket. And he saves even more on the arthritis bath soaks his wife was using. Those used to cost them $15 retail, but now they make them for about $2.50 each.

This couple now has enough money leftover to go out dancing again, something they'd been cutting back on because of the cost and also because of arthritis pain. And while my reader admits he doesn't have quite the speed and agility he did in his 30s, the salve is nonetheless helping him keep his moves smooth on the dance floor.
Topicals Dosing: Less Can Be More (Money in Your Pocket)
I am encouraging this man and all my students (and you too) to play with the dosages in their homemade topicals. There are classes in the course that cover topicals dosing in more detail, plus handy dosage calculators that do all the math for you.
You may or may not actually need as much as what is in the commercial topicals you currently buy.
One of the first students to take this course after it was released to the public wrote to specifically thank me for the dosing classes. They helped him to discover that his pain responded just as well to his homemade salve made at HALF the dosage of the commercial salve he used to buy. That immediately cut his cannabis ingredient expense in half.

Say it again kids: "Why use more if you respond to less?"

Who can benefit from this course?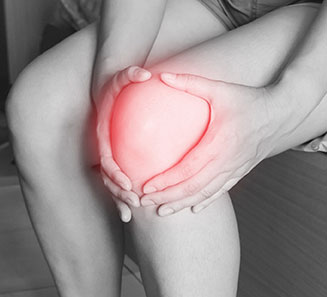 As all natural skin care products hands down beat their store bought equivalents, most anyone can benefit, but especially athletes or anyone who regularly works out, seniors, menopausal and postmenopausal women, and anyone trying to fight the physical signs of aging. Also anyone suffering from

Muscle aches and stiffness
Tension headaches
Migraines
Cramps or muscle spasms
Arthritis
Itchy skin
Insect bites
Skin conditions such as eczema, psoriasis, acne, or seborrhea
And much more
As topicals can provide localized relief without psychotropic side effects, even people who don't like to smoke, vape, or eat cannabis can still enjoy its medicinal benefits. Yep, almost everyone can benefit from cannabis topicals.
Who Is This Course Not Right For?
While negative reactions are exceedingly rare, those with skin sensitivities and allergies should use caution when trying any kind of new topical product, not only because of the cannabis, but also because of other essential oils and ingredients that might be in it. Also, some people with severe plant pollen allergies might find they have an allergic reaction to topical cannabis
Aside from that, this course will NOT be right for anyone who enjoys suffering from aches and pains, and itchy skin, and muscle cramps etc. So if you enjoy pain, inflammation, and itching, then marijuana topicals are not right for you. (I am assuming/hoping we don't have too many folks in this category.)
But for everyone else, making marijuana skincare products is fun and easy. They make thoughtful and sought after gifts, as well as valuable therapeutic products to add to your own health and beauty routines.

Enroll now and you get LIFETIME access to the course, including any future upgrades. That's right, watch the course anytime, as many times as you like, from any place with an intent connection.
Watch the lessons in order, or skip around to the parts you need when you need them. And if you ever have questions or concerns along the way, I am only an email away and I am always here to help!
I am passionate and excited about the healing power of topical cannabis because I know what it did for me. I want you to be too. That's why you also get a 30-day money back guarantee. That's right, you have absolutely everything to gain and nothing to lose by seeing if topical cannabis can help you. Enroll now and start enjoying the benefits of marijuana infused skincare today!
COURSE CURRICULUM

Includes topical cannabis myth busting: what topical cannabis can (and can't) do as well as explores the latest scientific research, how to best use marijuana skincare products, and how the law looks at marijuana topicals.

Safety tips for making homemade cannabis skincare products, the ABCs of THC and CBD, what you need to know about terpenes and topicals, decarboxylation and cannabis topicals.

How to determine the best topicals dose for your needs. Tips for increasing dosages in cannabis topicals. Handy dosage calculators that do the math for you when using cannabis plants, concentrates, and even commercially made tinctures.

Explores all the essential and optional tools for making topicals (you probably have everything you need), as well as packaging options both purchased and upcycled.

The module covers the various types of cannabis you can use to make topicals, including thrifty options that are often discarded, plus how to add cannabis to topicals formulas, as well as hands-on demonstrations of making small batch topicals infusions.

Practical considerations when choosing ingredients for topicals as well as an extensive exploration of various carrier oils and other all-natural ingredients you can use for your topicals formulas.

How you can use essential oils to add scents and additional medicinal benefits to your marijuana topicals. Includes important information on safety, substitutions, and therapeutic benefits for a wide range of popular essential oils.

Actual hands on demonstrations for how to make cannabis infused bath bombs, bath salts, massage and roller ball oils, wrinkle serums, salves, balms, lotion bars and speed sticks, lip balms, body butters, natural sunscreens, and sexual lube.

While the course gives you the knowledge you need to create your own signature cannabis topicals creations, I have also included over 60 tested formulas for my favorite marijuana infused bath bombs, bath salts, massage and roller ball oils, wrinkle serums, salves, balms, lotion bars and speed sticks, lip balms, body butters, natural sunscreens, and sexual lube. Besides ready-made formulas for all kinds of ailments and afflictions, each category also includes a bare bones basic formula that you can customize to your tastes and needs.
Frequently Asked Questions
What happens after I enroll in the course?
You will get an email with an access link. Click that link and you can immediately start the lessons and access all the videos, the 60 plus tested topicals formulas (recipes), and the course resources and handouts.
What if I have questions?
That first email you get is not a form letter! It is actually from me. Likewise you will have my email address. If you have a question, just use that email to ask and I will do my best to answer. Go ahead. Try it out. Ask me anything (well OK, most anything and definitely anything about cannabis topicals). Sad as it may seem, this seems to be a BIG difference between me and some of the other cannabis trainings available. My students always seem shocked when they not only actually get an answer directly from me (unless I happen to be traveling in which case it's from my associate), they almost always get it in a day or less (if I happen to be at my computer when the question comes in, almost instantly).
What if I am unhappy with the course?
I would NEVER want you to be unhappy! Likewise, the course comes with a full 30-day money-back guarantee. If you don't like the course, if you don't like topical marijuana, if you don't like me (I so DO hope you like me, but even if you don't), you can ask for your money back. That's right you have nothing to lose and everything to gain.
What if I don't have the time right now to complete the course or even start the course?
It doesn't matter. Once enrolled, you get LIFETIME access to the course, including any future upgrades (and fair warning when we do big upgrades on courses, the price usually goes up, but once enrolled you don't ever have to worry about that). You can access the course anytime it is convenient for you. Watch the lessons as many times you like, as often as you like. And since the course is broken down into short little lessons that are super easy to learn, even people with EXTREMELY busy schedules can work their way through it. You could even watch a lesson a day on your coffee break, should you choose.
Does it take a lot of expensive tools and ingredients to make marijuana topicals?
No. You probably have most of what you need already and a trip to the drug store, health food store, or supermarket can provide all or most of the rest. Which is not to say that you can't choose to buy a bunch of expensive carrier oils and essential oils. And while the course goes into these and how to use them, it also always suggests less expensive substitutions and alternatives. As to tools, most kitchens already have everything that is needed. I suggest some handy but optional tools, but in their basic forms, marijuana topicals are pretty simple to make, despite what the corporations selling them want you to believe. It does not even take expensive marijuana to make great topicals. You can use lower priced offerings and can even use parts of the plant that might otherwise be discarded!
Does it take a lot of time to make marijuana topicals?
Surprisingly no. Infusing carrier oils is the most time consuming part, but most of that time is passive and you can be doing other things while it happens. Once you have infused oils, the actual making of the topicals products takes mere minutes in many cases and none of the 60 plus formulas included with the course take over half an hour to make.
Does it take any specialized skills to make marijuana topicals?
Not at all. If you can read a recipe, measure out ingredients, and turn on a stove, you already have the skills it takes to make all the formulas in this course. The most complicated of any of the formulas are the bath bombs, but even those will take you under 30 minutes to make and are not difficult. And the course includes actual demonstrations of me making each type for formula, so you will never have to guess if you are doing it right.
Are there any topicals "recipes" included with the course?
YES! Over 60 formulas are included for bath bombs, bath soaks, healing salves and balms, along with massage oils, body butters, lotion bars, and speed sticks for all kinds of conditions and ailments. You'll also get formulas for lip balms, wrinkle serums, natural sunscreens, and even sexual lube, ALL infused with the incredible therapeutic powers of THC, CBD, or a full spectrum of ALL the plant's healing cannabinoids. Not only do you get all of my personal favorite cannabis skincare formulas, after taking this course, you will have the knowledge to start creating your own!
What if I can't afford the course?
This course pays for itself with the first batch of topicals you make. The bottom line is, putting the knowledge you gain in this course to work will substantially add to your bottom line, compared with buying commercial topicals products. Not only that, you'll be making superior products custom designed for your individual needs regardless of your age, skin type, or reason you are using the topical. For the price of this course, you couldn't even buy 2 jars of quality marijuana balm, but with the knowledge you gain, you can be making the products you need for the rest of your life.
Your Instructor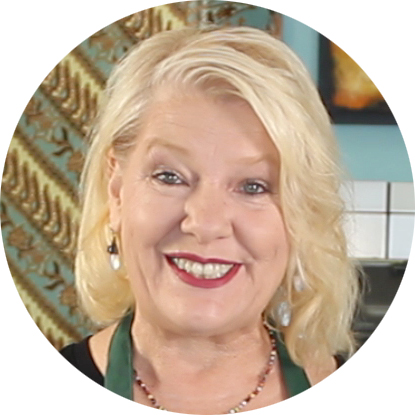 Cheri Sicard was a professional food writer, recipe developer, and cooking instructor long before cannabis entered her life, so it was only natural she started cooking with marijuana after her doctor recommended it for a chronic condition. At the time there was little good information available so she penned The Cannabis Gourmet Cookbook, which took some of her most popular recipes and turned them into tasty medibles consumers can easily make at home. Soon Southern California medical marijuana dispensaries and event producers were calling on her to teach their patients about cooking with cannabis.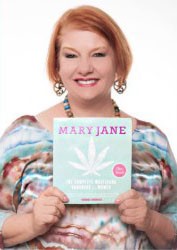 Cheri's second cannabis book, Mary Jane: The Complete Marijuana Handbook for Women, released in 2015, is a great general guide to marijuana and the cannabis lifestyle that has helped scores of women come out of the cannabis closet. Cheri's newest book The Easy Cannabis Cookbook was released to both public and critical acclaim in 2018.
Cheri writes Freedom Leaf Magazine's monthly Medicated Munchies column, and her articles and cannabis recipes can be found in High Times, Kitchen Toke, Civilized, Cannabis Now, Herb, and more. Cheri and her books have been featured in The Huffington Post, the Daily Beast, Time, Bustle, Dame, and a host of other publications. The Daily Beast even dubbed Cheri the "Martha Stewart of Weed."