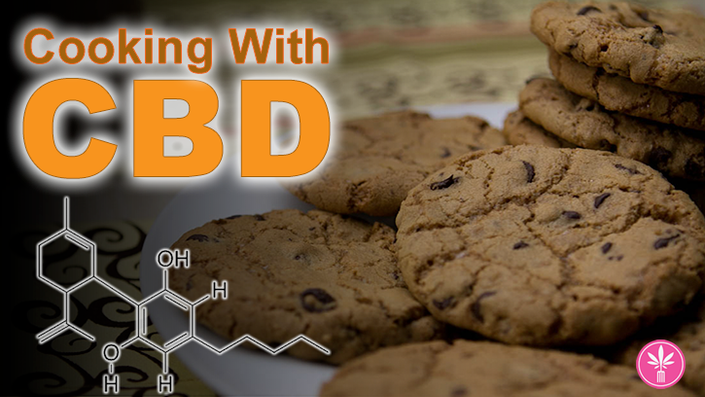 Cooking with CBD
How To Effectively Use Edible CBD To Improve Your Health
CBD seems to be everywhere these days!
The media can't stop talking about it.
A ridiculous array of CBD products is flooding market shelves (CBD toothpicks anyone?).
It's sold in drug stores and even conveniences stores.
A 2019 survey from the American Culinary Federation even cited CBD food and drinks as the top two food trends of 2019.
Its legal status is still in limbo, but the hype on this healthful cannabinoid is off the charts!
Sadly, many of the claims, made by less than ethical profiteers trying to cash in on this largely unregulated market, are nonsense. And a lot of the products are of questionable quality.
Who Needs This Course?
If you are confused about how to best use CBD, this course is for you.
I created the course because, as a writer and educator in the cannabis field, I go crazy every time I read bogus, misleading, or inaccurate claims about CBD. And those claims are everywhere!
I realized from the confused questions I constantly get from my readers and students of my other online courses, that people have a lot of questions and a lot to learn about how to best use CBD including:
how to know if it is working
how often and how much to take
how not waste money by being able to to differentiate quality products from snake oil
and much more
The fact is, edible CBD can offer tremendous health benefits including relief from anxiety, stress, inflammation, pain, skin disorders, and much more.

But with little credible information available, people are often using CBD incorrectly, or using inferior products, and later wondering what all the hype was about. Or using CBD when their conditions and symptoms require THC or combination of CBD and THC.
Contrary to a lot of inaccurate marketing hype and poorly researched media stories, while CBD has many medicinal qualities, the truth is it cannot do EVERYTHING that THC does, something I talk more about in the course.

Uninformed "experts" espouse people to pop CBD products like candy, and that can definitely have less than desirable results.

I experienced this myself when improper CBD doses made my depression symptoms worse, much worse.
It turns out that, even though it doesn't make you high, too much CBD is not always benign.
Somehow the marketing hype and clickbait "journalism" always miss this fact, along with other essential information like potential CBD drug interactions, and the fact that high and low doses of CBD can produce completely opposite effects!

The fact is, with CBD, in many cases less is more. I talk about this in more details in the dosing section of this course (another way the course can save you money while helping you get better results from CBD).

What Can You Expect from This Course?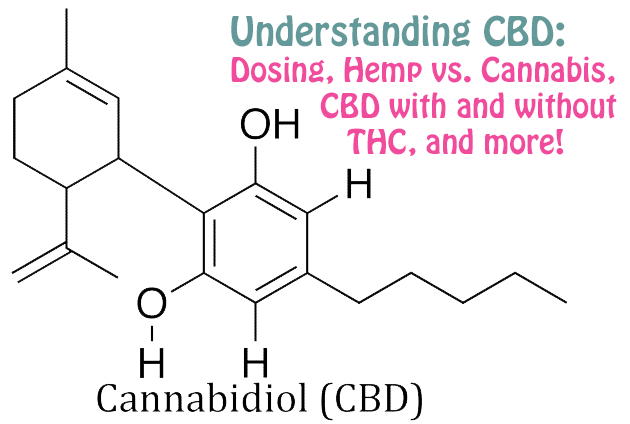 The Cooking with CBD course has a special focus on edible CBD, but anyone curious about CBD in general and how to best use it can benefit.
While I do educate you on what to look for when buying CBD products, I have no "dog in the race."
That means I do not own a CBD company, nor am I part of an MLM (multi level marketing) CBD company who is going to try to sell you CBD products or sign you up as a "distributor."
The information in this courses and the resources cited are based on science and studies, not marketing hype.
(NOTE: This Cooking with CBD course is an excerpt from my much longer comprehensive Easy Cannabis Cooking for Home Cooks course. If you are already enrolled in that course, you do not need to also enroll in this one.)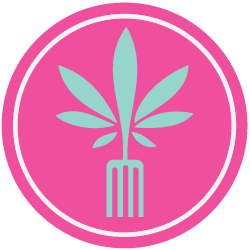 What people are saying about teacher Cheri Sicard:
"This site is like going to Cannabis University! I have learned so much and surprisingly Cheri answers all my emails promptly.
" - Jeni Wallace
What Does the Cooking with CBD Online Course Cover?
After watching the short easy lessons in Cooking with CBD:
You will know what to look for when choosing quality CBD products that deliver maximum medicinal benefits.
You will better understand how CBD works in the body and how to get most from it.
Home cooks will feel confident when preparing CBD infused food and drinks for themselves and their loved ones.
Chefs, mixologists, and other culinary professionals wanting to incorporate this popular health trend into their services will have the knowledge they need to successfully start infusing their signature dishes and drinks with CBD.
Check out the full curriculum below!

What people are saying about teacher Cheri Sicard:
"Simply some of the best information around!"
- John J Mark
Curriculum:Cooking with CBD
Module 1 – CBD Cooking Essentials
The essential information about CBD and THC nobody tells you about.
CBD from cannabis vs CBD from hemp: the important differences that get lost in translation
How to determine an effective CBD dose for your needs
How temperature and decarboxylation affects CBD
Module 2 Improving the Flavor of Cannabis Edibles

Practical ways to improve edibles flavor
How to use terpenes to enhance the flavor and medical efficacy of edibles
Terpene flavor and medical effect matching cheat sheet
Module 3 – Cooking with CBD Products
Clearing up the confusion between CBD oils and tinctures
The types of CBD tinctures
How to turn CBD oil into CBD tincture
Foolproof ways to cook with CBD oils, tinctures, isolates and distillates
Module 4 – Cooking with High CBD Flowers
How to cook with high CBD cannabis or high CBD phytocannabinoid rich hemp flowers
How to use the dosage calculator to know how much CBD to add to edibles
Cannabis infusion basics
Five foolproof methods for making CBD flower infusions, in both large and small batches, without special gadgets or butter making machines.
How to infuse butter, coconut, olive and other oil, milk, cream, honey, syrup, and sugar with CBD.
How to cook directly with high CBD flowers.
Easy to make alcohol and glycerin tinctures.
Easy mess-free ways to drain and strain CBD infusions.
Module 5: Resources and Recipes

Credible CBD research, resources, books, and Websites
25 Delicious and Nutritious CBD Recipes
Your Instructor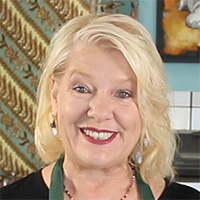 Cheri Sicard has been featured in: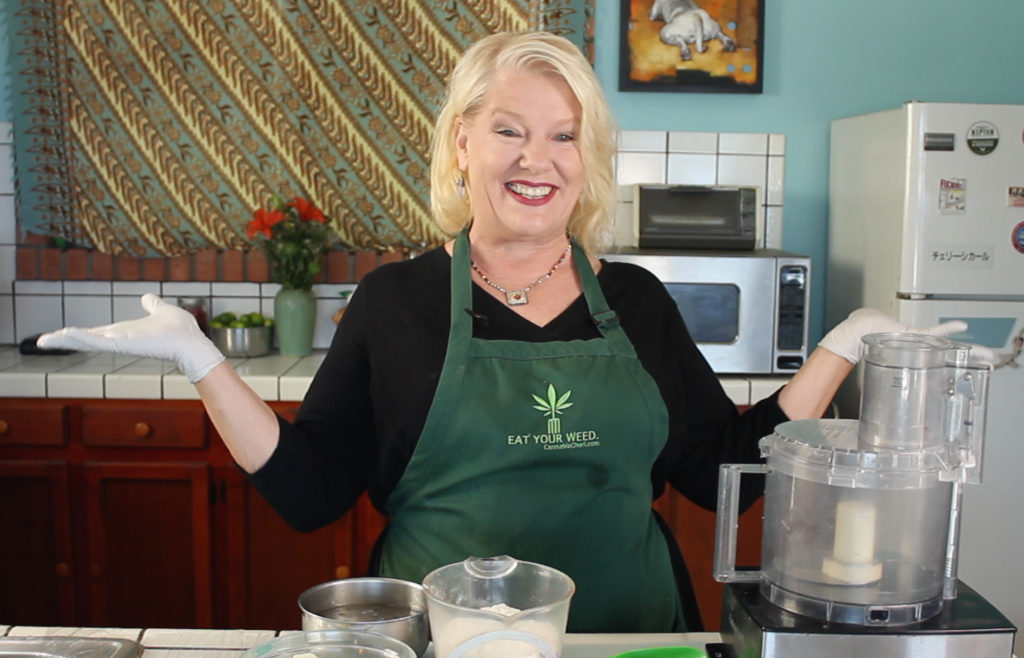 Cheri Sicard was a published, professional writer and food editor when she first got interested in cannabis. At the same time she had just sold her award winning food and travel websites to SheKnows media and found herself between businesses. That fortuitous timing allowed her the luxury of immersing herself in the topic of marijuana and edibles.
Fast forward 20 years and cannabis became Cheri's livelihood. Her website CannabisCheri.com has become a hub of credible cannabis information and recipes, and she has written three books about the subject, so far.
"Mary Jane: The Complete Marijuana Handbook for Women," released in 2015, is a great general guide to marijuana and the cannabis lifestyle that has helped scores of women come out of the cannabis closet.
Her 2012 "Cannabis Gourmet Cookbook" (Z-Dog Media) and 2018's "The Easy Cannabis Cookbook," which was released to both public and critical acclaim, have made Cheri one of the world's most popular marijuana food writers. Cheri has also turned thousands of home consumers into competent cannabis cooks via her live and online marijuana cooking classes.
Cheri's cannabis articles can be found in High Times, Kitchen Toke, Civilized, Cannabis Now, Culture, Herb, Freedom Leaf, and many more
Frequently Asked Questions
When does the course start and finish?
Whenever you want it to! The course is completely self-paced - you decide when you start and when you finish. You can watch all the lessons in order, or skip around to the parts you need when you need them. You can watch the lessons over and over again. Once enrolled you get lifetime access, so you can learn cannabis cooking whenever it's convenient for you.
How long do I have access to the course?
How does lifetime access sound? After enrolling, you have unlimited access to this course for as long as you like - across any and all devices you own. You'll also automatically get any future revisions and upgrades at no charge.
What if I am unhappy with the course?
We would never want you to be unhappy! If you are unsatisfied with your purchase, contact us in the first 30 days and we will give you a full refund. That's right you have nothing to lose!
Do I need any special equipment to cook with cannabis?
If you have an ordinary kitchen with ordinary kitchen equipment, you already have everything you need. A slow cooker is nice, but not essential for infusing flowers. Cheri is not a big believer in special equipment or unnecessary gadgets. Of course, it is assumed you have access to high CBD cannabis or hemp and/or quality CBD oils, tinctures, isolates, or distillates.
What if I have questions that aren't answered in the course?
Cheri is very accessible via email or her private Cannabis Cooking for Home Cooks Facebook group. Cheri is passionate about helping her students become better cannabis cooks and better CBD cooks. If you have questions, she will have the answers, and if she doesn't she will do her best to find out.
Are there individual recipe demonstrations in the course?
Cheri demonstrates how to cook with high CBD cannabis/hemp and CBD products, so there are demonstrations of how to make CBD butter and oil infusions using a number of different methods and techniques. There are also detailed discussions of cooking with CBD tinctures, oils, isolates, and distillates. Once you have the basic principles of how to cook with CBD down, such as proper temperatures, decarboxylation, and proper dosing, the rest is just cooking. So Cheri does not demonstrate individual recipes as it is assumed you already know how to cook. With this course as your guide you will be able to add CBD to most any food or drink. However 25 tasty tested CBD recipes are included with this course.
This course is closed for enrollment.